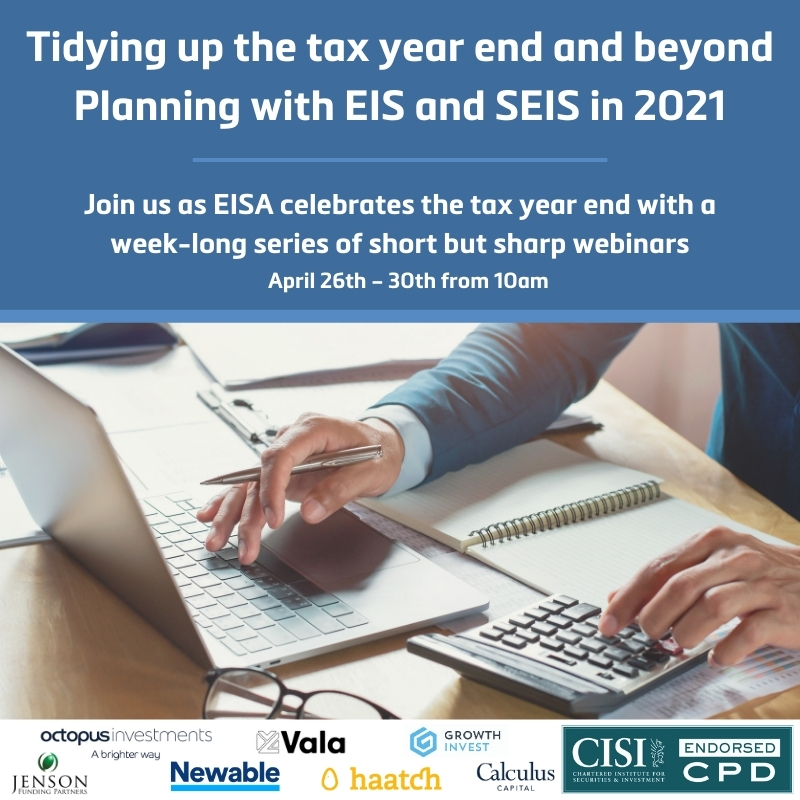 Following on from our highly successful round table discussions in January this year we are delighted to announce that EISA is holding another 5 days of online round tables focusing on the EIS/SEIS market, for financial planners, regulated advisers, paraplanners and accountants.
From Monday 26th April we will hold a week- long series of EIS and SEIS focused webinars via Zoom. 10am every day, watch a live, bite sized, 1 hr panel session on a different EIS/SEIS related theme each day.
Sign up here
Feel free to sign up to all (preferably) or one (and catch the others on demand at your leisure)
All webinars are free for attendees and qualify for CPD

Monday 26th Apr – Budget, Brexit and Building Back Better – Watch recording here
Tuesday 27th Apr – Ones to Watch – Fund managers Follow in 2021 – Watch recording here
Wednesday 28th Apr – ESG – What does it Mean and Why You Should Take Notice –  Watch recording here
Thursday 29th Apr – The Seven Myths and Misconceptions of EIS and SEIS – Watch recording here
Friday 30th Apr – Meet the Companies You Invest In – Watch recording here
See the Full Agenda here – webinar-agenda-April-2021
The webinars will feature:
A series of keynote speakers engaging in a thought leadership panel session – no product pushes
Hosted by Mark Brownridge, Director General of EISA and giving you the opportunity to engage live via text chat.
Speakers: Nick Bird (Octopus), Zoe Chambers (Octopus), Neil Cole (UBS), Alexander Crawford (Calculus), Steve Dobson (GrowthInvest), Jeffrey Faustin (Jenson), Sanjeev Gordhan (Newable), Madeleine Ingram (Calculus),
Lord Leigh of Hurley, Lisa Matthews(Jenson), Max Middleton (Vala), Dr Brian Moretta (Hardman & Co),Tej Parikh (Chief Economist, Institute of Directors), Dan Rodwell (Growthinvest), Raj Saxeena (Velocity), Jasper Smith (Vala),
Fred Soneya (Haatch), Michael Usher (PKGroup)
Register here
Thank you to our sponsors: Calculus Capital, GrowthInvest, Haatch Ventures, Jenson Funding Partners, Newable, Octopus Ventures and Vala Capital