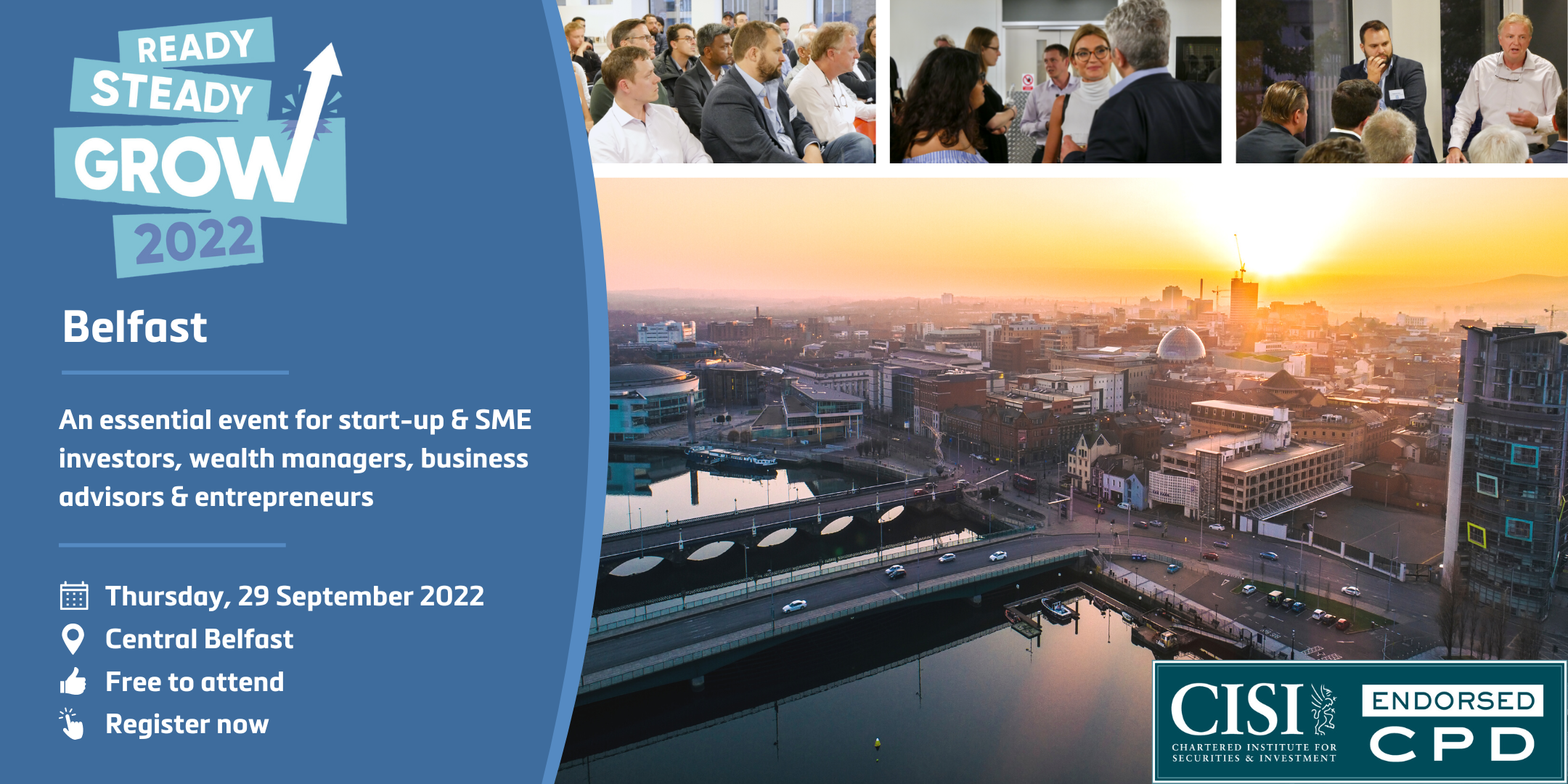 Ready Steady Grow! 2022 is an essential event for entrepreneurs, start-up and SME investors, wealth managers and business advisers to meet and share knowledge on  funding options and the latest developments in the EIS industry.
At The MAC, 10 Exchange Street West, we are bringing together small businesses, investors, IFAs, entrepreneurs and business advisers – all in one place to hear expert opinion from SME industry experts.
To attend the event, please register here.
The event is split into two parts – a technical seminar at 16.30, followed by a breakout session and networking from 17.30.  Close at 19:00

Registration from 16:00
Please click here to view the Seminar Agenda (CPD qualifying)
The Swapcard networking app is available to guests who wish to avail of it – the details are below. We believe it will improve the overall attendee experience by facilitating effective networking.  You will need to first download the Swapcard app on your mobile phone and then log in with the email address you used to register on Eventbrite.
The RSG Belfast event id: RXZlbnRfOTc5ODgw
Speakers
Boyd Carson, Sapphire Capital Partners
Co-founder of Sapphire Capital Partners, a venture capital firm managing in excess of £300+ million in more than 45+ micro VC funds. Boyd helps venture funds set up and launch, raise capital and make investments. He acts as the investment manager for the duration of the fund life. Boyd has over thirty years of experience in the financial services industry.
Leona Leonard, Cavanagh Kelly
Leona is a Chartered Accountant and Chartered Tax Advisor (CTA and AITI Chartered Tax Advisor (CTA)) in both Ireland and the UK. She joined CavanaghKelly in 2010 after having completed her training with PwC in Dublin. Leona advises individuals and businesses in a wide variety of sectors in both the UK and Ireland on all aspects of taxation. She has experience in advising on corporate restructuring, incorporations, succession and Inheritance Tax planning, Research and Development, personal tax planning. She also has significant experience in personal and corporate tax compliance and in dealing with tax enquiries.
Susan Nightingale, British Business Bank
Susan, Director for the Devolved Nations at the BBB, is an experienced financial professional with an in-depth knowledge of the SME funding environment across both debt and equity markets. Susan is highly respected across Northern Ireland's financial ecosystem and works tirelessly to support smaller business owners to gain access to finance to develop and grow.
Shannon Beattie, GenoME Diagnostics Ltd
Dr Shannon Beattie is Chief Operating Officer of GenoME Diagnostics — a spin out company from the Patrick G Johnston Centre in Queen's University Belfast, established in 2020. GenoME Diagnostics, an investee company within Deepbridge's Life Sciences SEIS portfolio has recently won a £50,000 award that is to be given to Shannon Beattie (CEO – GenoME Diagnostics) as part of the celebrations marking International Women's Day on March 8th 2022, which will be used to aid early detection of ovarian cancer.
Christiana Stewart-Lockhart, EISA
Christiana is the Director General of the Enterprise Investment Scheme Association (EISA). She previously spent more than a decade working in Westminster, including ten years at the Institute of Economic Affairs. She also founded EPICENTER, a Brussels based network of some of the most respected think tanks from across Europe. Christiana holds a BA in Politics from the University of York. She is a member of TISA's Children's Financial Education Policy Council and also sits on the Advisory Board for the All Party Parliamentary Group for Entrepreneurship.
Panelists
Andrew Aldridge, Deepbridge Capital
Andrew, Chief Marketing Officer, is a growth specialist, with two decades of experience helping companies develop their brand reputation, deliver financial results and develop sales & marketing functions, within heavily regulated environments. Andrew has worked with numerous companies, across multiple industries, but has predominantly focused on professional and financial services, and has been working with financial professionals throughout his career. Andrew joined Deepbridge in 2014 is a Member of The Chartered Institute of Marketing and holds a BSc in Business Economics and Marketing from the University of Wales, Aberystwyth. Andrew is also a patron of the Tim Parry Johnathan Ball Peace Foundation.
James D'Mello, Fuel Ventures
James has nearly 15 years of financial services experience across banking, pensions & venture capital. During this time, He has predominantly focused on the intermediary market, representing companies such as MetLife, Kuber, and more recently, The SidebySide Partnership. At Fuel, James is responsible for managing the relationship with IFAs and other strategic partners. Fuel Ventures is one of the most active early stage investors in the UK into leading fast growth technology businesses. We invest in the most ambitious entrepreneurs in sectors covering globally scalable marketplaces, platforms and software (SaaS)
Michael McDowell, Raise Ventures
Michael works closely with businesses raising investment for growth and has a particular interest in equity crowdfunding and other digital investment platforms. Raise Ventures is a Northern Irish based team who works with early stage tech founders to nurture an idea into a scalable, investable commercial business. Through their Discovery and Accelerators programme, Raise Ventures support founders through knowledge, advice and connections to build their best startup.
Sunil Shah, o2h
Sunil co-founded o2h ventures which involves discovery services / collaborations, seeding drug discovery, academic in-licensing and biotechnology incubation. Sunil has a degree in Biochemistry and an MBA from Cambridge University. A serial entrepreneur having begun a career in the Life Sciences team at PA Consulting group followed by co-founding two companies in the information technology and life sciences sector.
Rajeev Saxena, Velocity Capital Advisors
Rajeev began his career in advertising and has worked for TBWA, Leo Burnett and HHCL. Formerly the Marketing Director of Red Bull Energy Drink, UK & Ireland, he completed an MBA at the Institute for Management Development (IMD) in Lausanne. He has since founded a series of successful entrepreneurial businesses across a range of industries. These include MPPI, an Indian media fund, raising money and managing Indian property ventures, a 200mw wind farm development near Istanbul and Soho House Mumbai, a franchise business launching the Soho House brand in Mumbai. Rajeev is a member of the Investment Committee.
FAQs
Who should attend this event?
Entrepreneurs looking to start a business, or access funding to take your business to its next level
Wealth managers looking to gain knowledge and expertise in EIS and small company investing
Investors looking to invest in the 'Next big thing'
Professional Advisors who want to help SMEs develop and grow.
Will refreshments be provided?
Drinks and canapes will be provided
Register here
Disclaimer:
We, the EISA, may share your personal data with third parties in certain circumstances including (but not limited to) our sponsors. Before we disclose personal data to a third party, we take appropriate steps to ensure that the third party will protect personal data in accordance with applicable privacy laws and in a manner consistent with our privacy policy, which can be accessed here: https://eisa.org.uk/about-eisa/privacy-policy/.