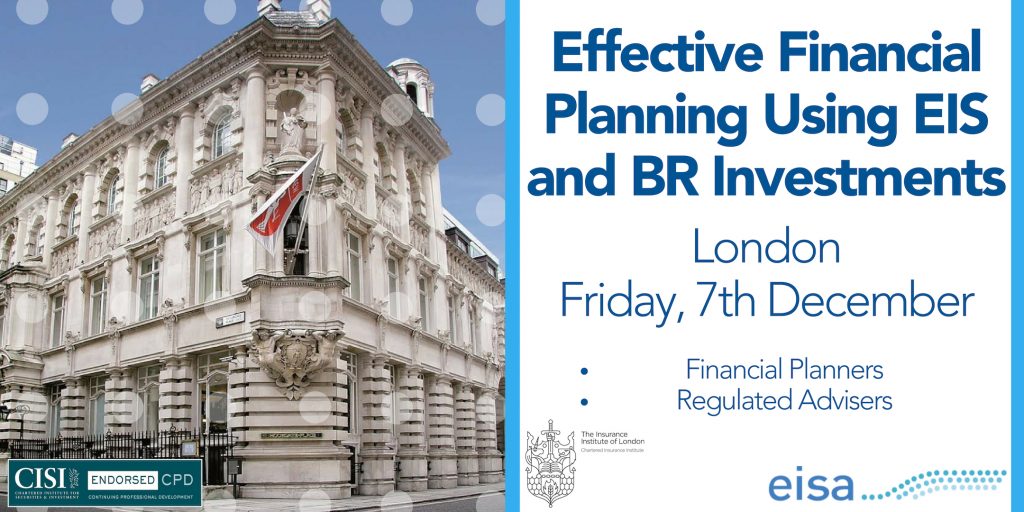 The EIS Association (EISA) are holding an Enterprise Investment Scheme (EIS) and Business Relief (BR) investment focused event aimed specifically and only at Financial Planners and Regulated Advisers.
Please note that attendance at this event is strictly only open to those who work for Financial Planning or Advisory firms and anyone who registers to attend the event from a firm not engaged in these activities will be unregistered and not permitted entry.
The last few years have seen significant changes in both the rules and investment philosophy of both EIS and BR investments. This has fuelled investor awareness and appetite for more knowledge in these two tax efficient areas of investing and as both types of investment provide attractive inheritance tax reliefs we are bringing them together for a comprehensive event, organised by the EIS Association, the independent trade body for the EIS and SEIS industry.  The event will provide planners and advisers with a fully CPD qualifying session of informed opinion from industry experts on the relevant issues that we believe you face when advising in this area.
Following our successful first adviser focused event in January this year we have now expanded the event.
The event will be held on FRIDAY 7th DECEMBER 2018 (7:45am – 2:30pm). BREAKFAST AND LUNCH INCLUDED! at: The Great Hall, One Moorgate Place (the home of the ICAEW),London EC2R 6EA
You will leave the event having :
Learnt from Rory Percival, formerly of the FCA, on how compliance shouldn't be a barrier to EIS/IHT recommendations
Discovered how to undertake competent due diligence & research on EIS/IHT investments
Let experts in the industry inform you on how changes in the EIS and IHT market affect your clients
Unlocked ideas on how to incorporate EIS/IHT investments within a client's financial plan
Heard direct from the Government on their view of the EIS/IHT sector
Enjoyed listening to our keynote speaker on why now is an exciting time to invest in Britain's entrepreneurial companies
More details of the benefits of EISA membership can be found here
This event is now sold out