The EIS Association Awards denote excellence in a number of EIS and SEIS fields. The Awards were presented to firms, advisers, companies, individuals and journalists that achieved outstanding performance in the context of the EIS & SEIS schemes during 2017. For the first time there were awards for the Best Result in EIS Diploma and Best Custodian/Administrator this year.
View from the Judges
We have once again been hugely impressed with the standard of this year's EISA Awards submissions, with entrants demonstrating their support from across the small business spectrum, from start-ups graduating from incubators all the way up to more established businesses. We have also been encouraged to see support for EISA and their efforts to bring together entrepreneurs, investors and professional service providers. The EISA awards celebrate all sections of the EIS and SEIS industry and our job as independent judges of the awards afford us a tremendous insight into everything the industry has to offer which judging from the quality of entries appears to be in rude health.
The members of the independent judging panel for the Awards were:
• Dr Mike Bandar BEM – Serial entrepreneur, Partner at Turn Partners
• Mark Brownridge – EISA Director General – Non voting
• Martin Fox – Bulletin Marketing – Managing Director – Non voting
• Declan McAndrew CFA – Foster Denovo – Head of Investment Research
• Lee Moran -1825 – Chair of the Investment Committee & Head of Research
• Ewoud Karelse – Tilney – Product Specialist
• Ian Merricks – Founder of the Accelerator Academy and Partner at White Horse Capital
• Scott Shearer – Senior Manager, Communications – British Business
• Malcolm Snook – MPL Wealth Management – Senior Financial Planning Manager
The winners of this year's awards and those highly commended by the judges are listed below. Additional feedback for those entries not shortlisted will be sent to individual entrants.
Best EIS Fund Manager/Sponsor – sponsored by Edwin Coe
Winner: Parkwalk Advisors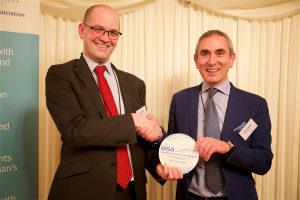 Pictured on left John Young of Edwin Coe with Enrico D'Angelo of Parkwalk Advisors.
Judges' comments "Parkwalk – Good returns and good early focus exactly in line with the objectives of EIS."
Highly Commended: Calculus Capital
---
Best SEIS Fund Manager – sponsored by Reyker
Winner: Sapphire Capital Partners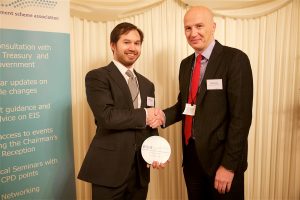 Pictured on left Martin Auger of Reyker with Boyd Carson of Sapphire Capital Partners.
Judges' comments "Sapphire – Very supportive of the space. Interesting mix of funds and at early stage. Strong comms and support of investors and portfolios."
Highly Commended: CHF Enterprises
---
Best EIS/SEIS Tax Adviser – sponsored by Exact Financial Systems
Winner: Philip Hare & Associates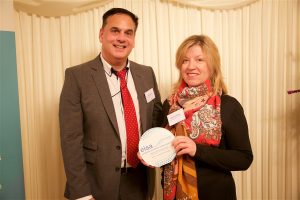 Pictured on left Gary Butcher  of Exact Financial Systems with Alison Caulfield of Philip Hare & Associates.
Judges' comments "Philip Hare – Arguably the market leader in tax advice; good examples given of involvement with clients and achievements • Provided constructive feedback to HMRC advocating a progressive principles-based approach and assisted many parties in responding to consultation papers in addition to its own representations • Evidence of team-based support for EISA including 'Green Shoots' • Innovative pro-bono support for start-ups "graduating" from incubators as well as helping AIM brokers identify companies which could qualify for EIS • In addition to basic support for industry with publishing updates and commentary, the firm also helped HMRC with its digitisation initiative • While not known for PR and a social media presence, the team provides thought leadership to other tax firms and legal advisers as well as HMRC, BVCA and the EISA."
Highly Commended: Chiene & Tait
---
Best EIS/SEIS Legal or Regulatory Adviser – sponsored by Guinness Asset Management
Winner: BWB Compliance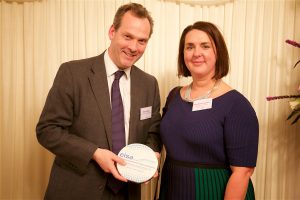 Pictured on  left Shane Gallwey of Guinness Asset Management with Gillian Roche-Saunders of BWB Compliance.
Judges' comments "BWB- Detailed and relevant response to the criteria in this category. There were specific examples of the proactive nature of the work and especially multiple interaction with the regulator and government. Effective lobbying and influencing is easier said than achieved. To do so on the scope of issues is invaluable to the EIS sector that is too often misunderstood and wrongly designated. BWB Compliance's level of service in tailoring training and support for clients are key positives. Chairing the EISA regulatory committee shows their commitment and is beneficial to all. A worthy winner."
Highly Commended: Bovill
---
Best EIS Investment Exit – sponsored by Mainspring Fund Services
Winner: Endeavour Ventures for Blue Prism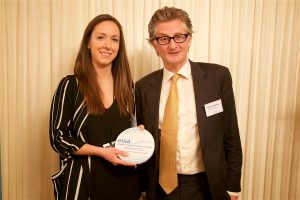 Pictured on left Natasha Head of Mainspring Fund Services with Bill Cunningham of Endeavour Ventures
Judges' comments "- The returns are obviously very high, and investments made at early stage in process. That it went on to become Unicorn (although now dropped) particularly impressive given initial share price – tempted to give it a 10!"
Highly Commended: MMC Ventures for Love Home Swap
---
Best EIS/SEIS Custodian/Administrator, sponsored by CoInvestor
Winner: Mainspring Fund Services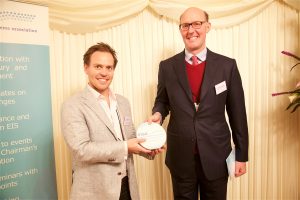 Pictured on left Sam Plumptre of CoInvestor with Stephen Geddes of Mainspring Fund Services
Judges' comments "Mainspring – Mainspring have demonstrated their commitment to investing in IT infrastructure via the launch of a new operating software platform. Both this and adaptive pricing structure appear to be positives, although the submission did not provide supplementary information or evidence to back up the claims of client benefit. EIS is a core business for them, as such they have developed specialist knowledge. Their willingness to be flexible to different fund types and welcoming new entrants are admirable qualities, Their website gives a good overview to potential new EIS participants. They have supported the EISA in both sponsorship of awards, hosting events and committee representation. Thought leadership pieces on their website and social media activity are points in their favour. Overall, a consistent entry"
Highly Commended: The Share Centre
---
Best Innovation, Newcomer or Rising Star in EIS/SEIS – Company – sponsored by Downing
Winner: Startup Funding Club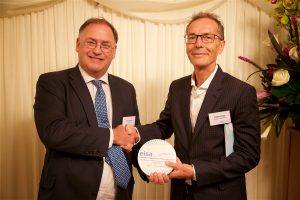 Pictured on left Chris Allner of Downing with Stephen Page of Startup Funding Club.
Judges' comments "Startup Funding Club – A new fund launch in 2017! The entry clearly demonstrates the funds objectives and how this is set apart from other offerings. Investors in the new proposition will have access to a genuinely innovative investment opportunity, this is exactly what EIS/SEIS needs to drive it forward."
Highly commended: Worth Capital
---
Best Innovation, Newcomer or Rising Star in EIS/SEIS – Individual – sponsored by Deal Partners
Winner: James Ramsay, Tax Efficient Procurement Services (TEPS)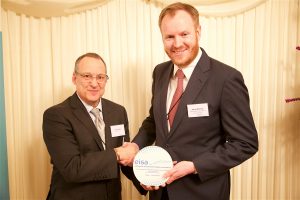 Pictured on left Clive Morris of Deal Partners with James Ramsay.
Judges' comments "James draws on wide experience in financial services and tax efficient vehicles, therefore not a younger professional. The TEPS offering is certainly innovative and arguably needed for the EIS sector. The submission is focused on TEPS rather than James, although it is entirely James' baby so perhaps this is understandable. Having said that, developing relationships with other non EIS service providers such as SIFA and Intelliflo are vital to extend the sector's attraction and dispel misconceptions. In many ways, adviser education, streamlining administration and valuation processes are vital components that James / TEPS are embracing. Due to not being directly a provider does lend James a distance and potential perspective. It is early days for TEPS and the success for James' venture is yet to be determined, although he /its does make a valuable contribution to the sector."
Highly Commended: Boyd Carson, Sapphire Capital Partners
---
Best EIS/SEIS Journalist, sponsored by Kuber Ventures
Winner: Vanessa Houlder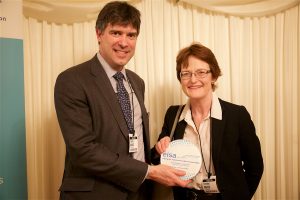 Pictured on left Dermot Campbell of Kuber Ventures with Vanessa Holder
This award was launched last year. At EISA we recognise that there is still a long way to go in both informing and educating people about EIS and the benefits it offers. Benefits not just to investors, but to companies and the wider economy through jobs, tax revenues and other social benefits. Journalists are key influencers in this and so it seems only right to recognise a journalist that is helping us to achieve this goal.
This award was judged by the PR agency of EISA, Bulletin, who reviewed what has been written on EIS across 2017.
---
Best Result in EIS Diploma, sponsored by Tolley
Winner: Neil Norman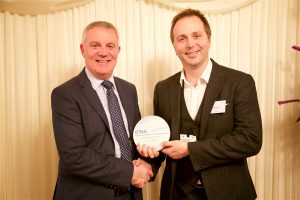 Pictured on left Chris Siddle of Tolley with Neil Norman of Chiene & Tait
The EIS diploma has been designed by EISA in association with Tolley Tax Training and covers the regulatory requirements, investment knowledge and tax implications that individuals entering or involved in this area of work and advice should be aware.  Following a period of study, students complete an online examination.  Successful candidates will be awarded an EISA accredited certificate on completion.  Neil Norman of Chiene & Tait scored the highest mark of all students who took the online examination in 2017
Highly commended: Rachel Guest
---
Highly Commended pictured below: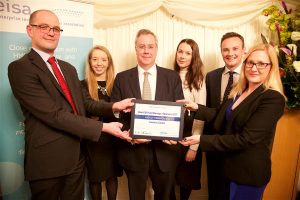 John Young of Edwin Coe on left with Jessica Fox, Robert Davis, Francesca Rayneau, Richard Duvall and Claire Olsen of Calculus Capital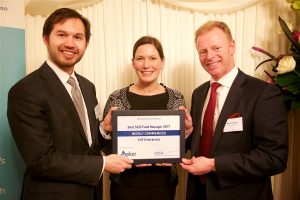 Martin Auger of Reyker on left with Nicola Johnston and Adrian Wilkins of CHF Enterprises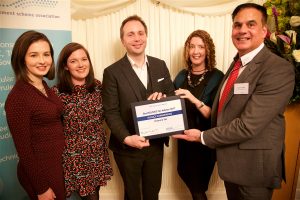 Gary Butcher of Exact Financial Systems on the right, in the middle Neil Norman with the team from Chiene & Tait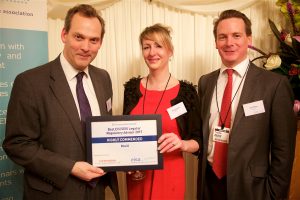 On the left Shane Gallwey of Guinness Asset Management with Tracy Clarke and Ed O'Bree of Bovill.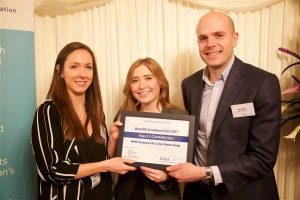 On the left Natasha of Mainspring Fund Services with Anna Slemmings and Jon Coker of MMC Ventures.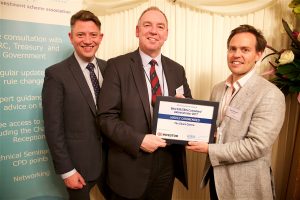 Sam Plumptre of CoInvestor on the right, Paul Richardson in the middle with Rob Bradbury both of The Share Centre.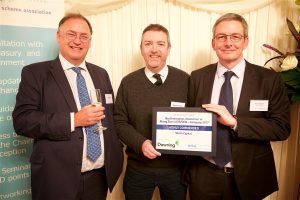 On the left Chris Allner of Downing, in the middle Matthew Cushen and Paul Soanes on the right both of Worth Capital.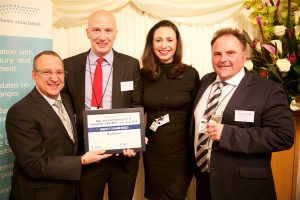 Clive Morris and Richard Cochrane of Deal Partners on left and right respectively with Boyd and Vasiliki Carson of Sapphire Capital Partners in the middle.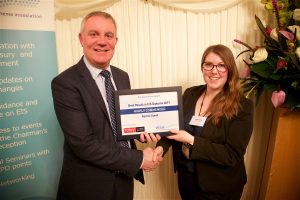 Chris Siddle of Tolley with Rachel Guest of Oxford Capital.
All photos ©Stevie Thomas/TheAmalgamate(s)
Thank You
The membership would like to thank Lord Howard Flight for his outstanding work as Chairman on behalf of the EIS Association.
To our speaker George Freeman, MP
To everyone who contributed to this superb evening and for the support of the Board, Committees and Membership throughout the year. We would like to thank members who host events for the EISA – Charles Russell Speechlys, who host the London Autumn Technical Seminar and PwC who host the London Spring Technical Seminar. Draper Esprit and Howard Kennedy who hosted EISA Introductory Lunches. Brown Butler, Burgess Salmon, Chiene & Tait, MBM, Mills & Reeve, RBS, RSM, Sapphire and UBS who hosted the Ready, Steady, Grow regional events and other. Martin Fox for organising the award judging process. We would also like to thank Bovill, who provide office space for EISA. We would like to take this opportunity to thank our sponsors for their generous support for EISA Guides – Blackfinch, BDO, Calculus Capital, Downing, Edwin Coe, GrowthInvest, Hardman & Co, Mainspring, Par Equity and Shoosmiths.
Thank you to our sponsors