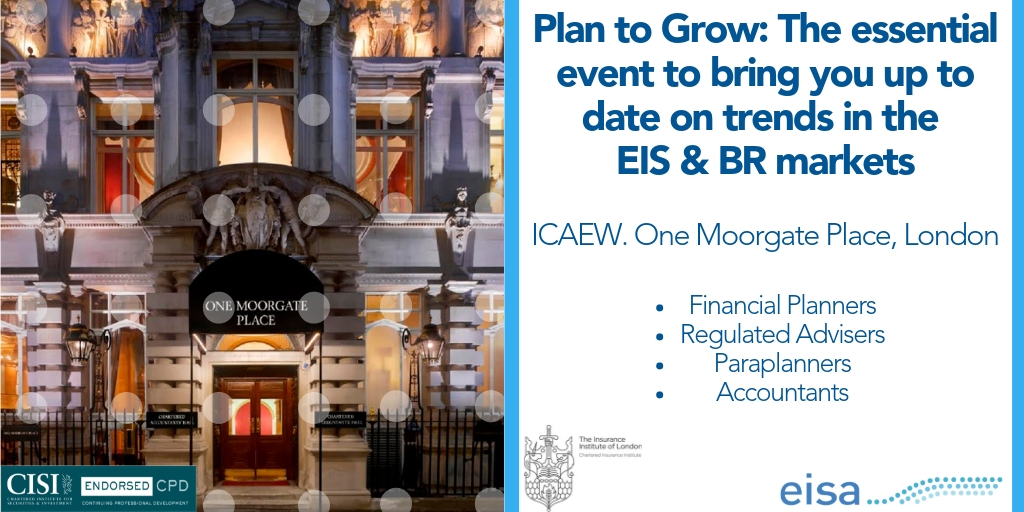 The EIS Association (EISA) in association with the IIL (The Insurance Institute of London) are once again holding an Enterprise Investment Scheme (EIS) and Business Relief (BR) investment focused event aimed specifically for Financial Planners and Regulated Advisers and you are invited!
Please note that attendance at this event is strictly only open to those who work for Financial Planning, Accountancy or Advisory firms and anyone who registers to attend the event from a firm not engaged in these activities will be unregistered and not permitted entry.
Both the EIS and BR investments are changing. How aware are you? Are you up to date with your knowledge of these important areas of investment, income tax, capital gains tax and inheritance tax advice? What action should you be taking on behalf of your clients? How do you advise clients confidently and competently? The answers to these questions and more will be answered by investment and tax efficient industry experts, commentators and Government representatives at a comprehensive event, organised by the EIS Association, the independent trade body for the EIS and SEIS industry.  The event will provide planners, paraplanners and advisers with a fully CPD qualifying session of informed opinion from thought leaders spanning both the EIS and BR markets covering the issues you face when advising in this area.
The event will be held on Thursday 5 December 2019 (8:15am registration for a 9am start – 2:30pm). BREAKFAST AND LUNCH INCLUDED! at: The Great Hall, One Moorgate Place (the home of the ICAEW),London EC2R 6EA
The agenda and speaker lineup is constantly being added to. You can find the most up to date agenda here
You will leave the event having extended your knowledge of these key markets.
You will discover how to understand how EIS/BR investments calculate their charges and performance, let experts in the industry inform you on how changes in the EIS and BR market affect your clients, unlock ideas on how to incorporate EIS/BR investments within a client's financial plan, hear direct from the Government's on their view of the EIS/BR sector, get the inside story from entrepreneurs and investors on their experience of EIS/BR and enjoy listening to our keynote speaker on why now is an exciting to invest in Britain's entrepreneurial companies.
You will also have gained an insight into:
The EIS and BR market
How to advise clients confidently and competently on tax efficient investments
How to invest diversely and understand the risk/reward
And best of all, it is FREE! And for planners and advisers who are not already EISA members, there is an additional bonus as attendance at this event provides you with free membership to EISA! More details of the benefits of EISA membership can be found here – https://eisa.org.uk/joining-eisa/
Register here
Thank you to all our sponsors