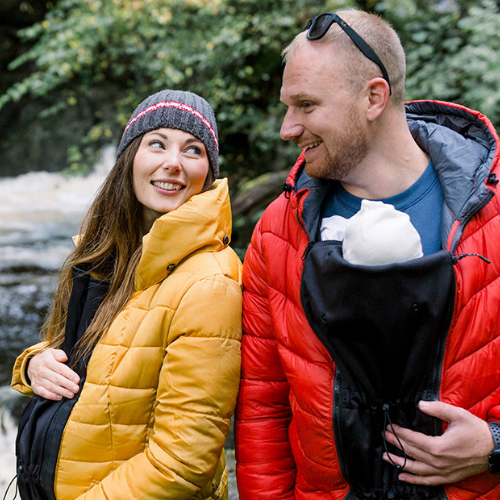 Zip Us In is an apparel brand that produces adaptable clothes that change shape with the owner, such as their wide range of maternity items — specifically designed for pregnancy and baby wearing.
Zip Us In aims to offer an alternative to fast-fashion, with clothes designed for a broad range of consumers and built out of high-quality sustainable materials.
We caught up with founder Kate Bell and asked her about the brand's backstory, where the idea came from, and much more.
What's the story behind Zip Us In's founding?
"I previously ran a marketing company for 17 years. One day, when I was pregnant with my second daughter, I was stood on Weymouth seafront trying to pull my waterproof jacket on, but couldn't.
I looked online and couldn't find any high quality maternity coats — it was a lot of fast fashion. I didn't want to buy something wasteful, and noticed you can buy expanders for your waist, bra, et cetera, but not your coat.
After a conversation with my mum, I asked her to make me one (a jacket expander). After wearing it, it wasn't long before people started stopping me in the street and asking where I got it from. It was initially just to solve a problem for me, but I soon realised the problem is shared with many people.
I decided to launch the product on Facebook, and the interest was mad — the product was shared everywhere as I desperately tried to keep up. This quickly led to interest from high-street retailer Boots, and we struck a deal launching in 98 stores in the first 12 months of trading.
The Boots launch was followed by GO Outdoors, The Range, Robert Dyas, Wear My Baby, and Amazon — supplying 75 different countries with a network of independent distributors.
But we're still a just small company, and I maintain a close relationship with our customers and their feedback."
Where did the idea come from?
"I'm the UK's worst yo-yo dieter. Because of this, I'm reluctant to get rid of any item of clothing because I fluctuate in size so much. This turned out to be a good thing, as it made me realise my product is not just for pregnant people!
This also aligned with the wider conversation about why we seem to be throwing away so much fabric; I knew my product had a wider appeal for changing body shapes. So I used the time during lockdown to design a new range of clothing, providing key pieces for the wardrobe.
Having uncovered how big the concept of adaptable fashion is, I decided to raise money to help take Zip Us In to the next level. Maternity clothing hasn't changed since our grandmas — I'm looking to change that, and cater for the general population who fluctuate in size, too."
What has been the biggest challenge?
"How long have you got? Every day is a challenge; constant learning.
When I first launched the business, I didn't know anything about fabrics, textiles, et cetera. Now I know everything there is to know about zips, buckles, sustainable fabrics, and more!
That's the challenge; being prepared to learn something new every single day."
Do you have competitors?
"Not really. Most of what we see now is still very typical of what we saw when sustainable fashion started to come to the market — not particularly on-trend, and you might have to sacrifice luxury fabrics or a nice cut to have the sustainable box checked.
We have done a lot of research into Google key terms. In 2014, the term 'jacket expander' wasn't recognised by Google; now most times if I have a look we are usually in the top 5 for items searched for in the maternity category. We created a problem-solving product that didn't exist before — and now we want to do this for all types of clothing with products that are beautiful and sustainable — not just one or the other."
What has the growth trajectory of the company been?
"We started an investment raise this summer, and we're 60% to target at present.
So far, in terms of growth strategy, we doubled turnover every year for first 5 years of trading.
We've grown substantially just through sheer will and determination; building a good foundation on one product."
What's next for Zip Us In?
"I want to expand the team, launch now products, boost the brand, and build and develop more original products. Plus, we have a key focus to expand in the Asia-Pacific next year and become a global disruptor for maternity wear."
Register on the Curated Capital platform to invest.
Visit the Zip Us In website to learn more about the brand.
Follow us on Twitter and LinkedIn for more EIS success stories and investment opportunities.