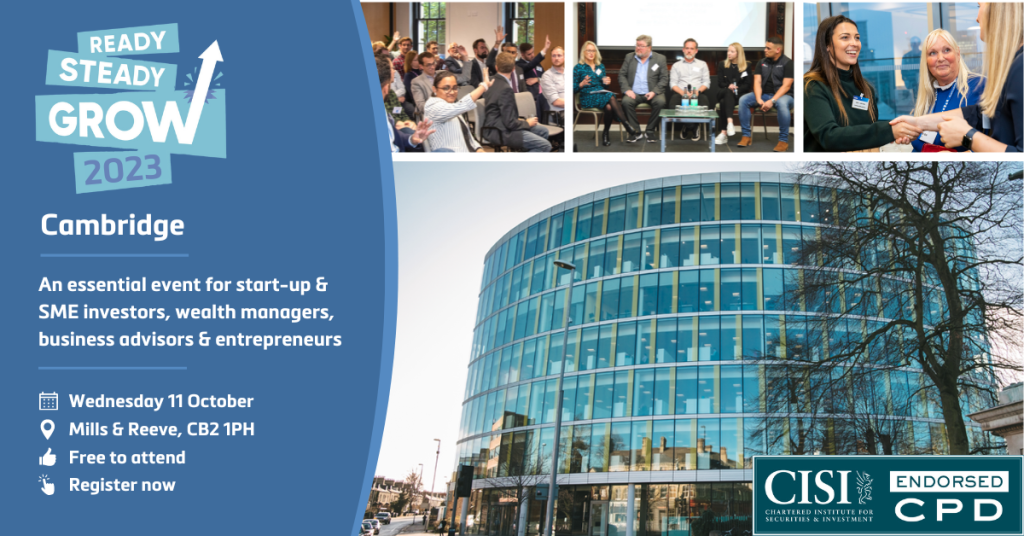 At Mills & Reeve, Botanic House, 100 Hills Road, Cambridge, CB2 1PH we are bringing together small businesses, investors, IFAs, entrepreneurs and business advisers – all in one place to hear expert opinion from SME industry experts.
The event is split into two parts – a technical seminar at 16.30, followed by a breakout session and networking from 17.30
Ready Steady Grow Cambridge – sign up here
Registration from 4pm.
Agenda
4.30pm Welcome from the Chair, Zickie Lim, Head of Venture Capital Investments – Mills & Reeve
4.35pm Investing in Innovation through the S/EIS, Jan Fachot, PEM
4.45pm How to integrate S/EIS into your investment deal, Edward Sloan, Mills & Reeve
4.55pm Panel Discussion: Under the bonnet with the Fund Managers
Chair – Zickie Lim, Mills & Reeve
Panellists: Tim Dickens – Octopus Ventures, Ed Prior – SFC Capital, Sunil Shah – o2h Ventures and Glen Stewart – Committed Capital
5.15pm Journey of a Start-up with Founders Elena Cismigiu, Neuro XR and Jym Brown, Ningi
5.30pm Update on the early-stage market and recent commitments in Cambridge – Paul Sullivan, British Business Bank
5.40pm Closing remarks, Christiana Stewart-Lockhart, EISA
5.45pm Move to reception and networking
Here's an overview of this year's entire series of Ready Steady Grow! events:
Edinburgh (29Aug) Birmingham (20 Sep), Cardiff (27 Sep), Bristol (28 Sep), Manchester (4 Oct), Leeds (10 Oct), Cambridge (11 Oct), Newcastle (17 Oct), Belfast (19 Oct), Oxford (2 Nov)
If you have any queries or would like to attend please contact Mary Rodgers on mary.rodgers@eisa.org.uk
FAQs:
Who should attend this event?
Entrepreneurs looking to start a business, or access funding to take your business to its next level
Wealth managers looking to gain knowledge and expertise in EIS and small company investing
Investors looking to invest in the 'Next big thing'
Professional Advisors who want to help SMEs develop and grow.
Will refreshments be provided?
Drinks and canapés will be provided
***
We, the EISA, may share your personal data with third parties in certain circumstances including (but not limited to) our sponsors. Before we disclose personal data to a third party, we take appropriate steps to ensure that the third party will protect personal data in accordance with applicable privacy laws and in a manner consistent with our privacy policy, which can be accessed here: https://eisa.org.uk/about-eisa/privacy-policy