This year, we have undertaken a mission to create what we are calling The S/EIS Top 50. It aims to highlight 50 companies who have benefitted from qualifying for either EIS, SEIS funding or both – from startups at the seed stage all the way through to firms who have successfully navigated their business to a listing, exit or institutional funding rounds. Our goal is to both champion those small businesses and also to demonstrate the immense power of S/EIS in driving the British entrepreneurship so crucial to the country's economic growth.
What is it?
Established in 2005, Tossed is on mission to create a healthy and exciting food experience, that doesn't compromise on taste or portion size.
Guests can create their own lunchtime masterpiece using an extensive range of fresh, locally sourced, seasonal ingredients, or can opt for a signature house salad, wrap, toastie and soup. All food is made fresh on site daily so healthy eating on-the-go has never been easier.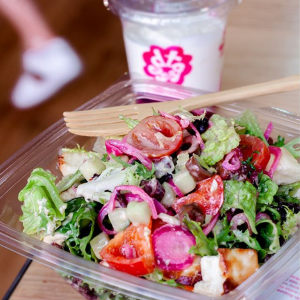 Fresh from university I (Vincent McKevitt) started the company in 2005 with three employees and lots of credit cards. And here we are! I'm into healthy eating, and back then there weren't many options that satisfied me – I'm a healthy guy but I'm also into sizeable portions.
Now there are many high street options, but we were the pioneers of healthy eating in the UK. We were the first to put all the nutritional information on the products. Legally, when you make it onsite, you don't have to do that. Now everyone does it, but we were first.
What makes it unique?
Tossed is the nation's favourite healthier eating place, specialising in healthy, fresh, customisable food made to order. Guests come in, choose their salad or hot bowl, and order on a self-serve kiosk – simple and satisfying. The bowl can then be adapted to their needs.
The majority of the 'food to go' market in the lunch space is pre-packed and pre-prepared. Whilst it might be prepared fresh on site that morning, there are very few places where you can completely customise your food – whether for lunch or breakfast. We recognise that everyone's health is unique, and we customise a customer's food to their health.
Do you see technology as a key differentiator for the business?
Definitely. Tossed harness technology to ultimately facilitate our product, it's not technology for technology's sake. Some restaurants do that. We use tech to allow us to reduce queues and increase customisation, allowing people to choose and swap ingredients. We've got 18 self-serve kiosks here at the Baker Street branch, nowhere else can 18 people place a customised order. The only place you can do that is online, not in store.
What has the growth trajectory of the company been?
We were initially self-funded, aided by about 12 different credit cards in 2005. We remained self-funded up to 7 sites, where in 2012 we received VC finance and grew from 7 sites to 15. Following that, we moved on to Seedrs.
At that time I noticed a lot of crowdfunding activity – I realised it was going to be a big thing. It wasn't so much for the money, but more to have a network of investors and supporters for the brand. We use our network now if we're doing surveys to get feedback, which is amazingly powerful for word of mouth, and we were one of the first companies to grow from that.
When we took on the VC, our turnover was around 3 – 4 million. When we took on the crowdfund, our turnover was around 10 million, and since we did the crowd raise the market changed, investing in our own stores put us in a good position. Our main competitor Vital Ingredient went bust and we acquired them in March of this year.
We have experienced a lot of market change – the retail landscape changed; we're under pressure from Brexit; net migration – can't employ anyone; rates are going up, which is why at the moment it's the perfect storm; Jamie's Italian went bust, as did Gaucho, both in large part due to hyper competition. Hummus brothers raised money from the crowd and they went bust.
Initially it may not have looked a lot for shareholders because we didn't seem to do much, but it massively strengthened our core offering, then we doubled in size quickly. We used a lot of the seed money to roll out the self-serve kiosks, investing in our own stores.
The business now turns over around 25 million pounds.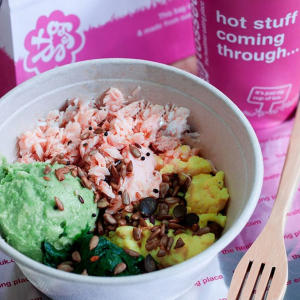 What role has Seed EIS / EIS played in this? Did you use EIS allowance in full?
It's tricky to know, obviously it's there. Because we were a slightly older company there were a few questions over whether we would get EIS, but we knew we would love to have it, it's one of the best things the government has done in terms of business. Now, I won't do an investment unless it's EIS or SEIS qualified.
In terms of the scheme I'd change the limits in terms of the million pounds. Why cap it? I don't think it should necessarily be based on how old the company is. You've got entrepreneurs, companies that have been around for a while, it's a great way for them to progress their business to the next level. The aim is surely to drive business forward, not just new business forward.
I'd also make the process a bit quicker, it's a long process to get the assurance. And as an investor, it takes a lot of time to get the tax back, and that stops you from investing more, faster.
It's hands down one of the best things the government has done to promote entrepreneurship. I have a brother in Silicon Valley, they don't have anything like that. As an investor, I aim to write off all my tax and by doing that, I'm ultimately supporting businesses.
Follow us on Twitter and LinkedIn for more EIS success stories and investment opportunities.